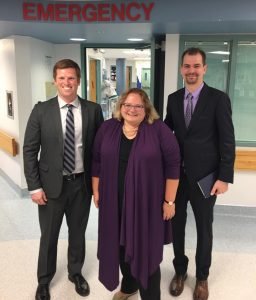 The importance of meeting with Deputy Premier and Health Minister, Hon Sarah Hoffman in November cannot be understated!
During friendly chat over a cup of coffee, Hon Sarah Hoffman, Dusty Myshrall (President) and Marc Moebis (Executive Director) got down to business.
Two main topics were discussed on behalf of our members.
1) Association members as stewards of the healthcare system
Paramedics working the frontline have firsthand experience with the healthcare system every day!
We have ideas of how the health system can be improved, including better patient flow, decreasing wait times, reduced long distance transfers and cost savings. The Alberta Paramedic Association has a membership base that would like to communicate those ideas and we are a resource for the government to get frontline feedback.
2) Alberta Paramedic Association support.
With the support of a strong association, the HPA has afforded paramedics the opportunity to expand into new roles, grow in scope of practice and enjoy greater independence. We asked the Health Minister to support the Alberta Paramedic Association as we continue to evolve as a VOICE for the profession and a place for paramedics to connect, share, learn and support each other. We reinforced our encouragement for the government to support the Alberta College of Paramedics in it's mandate and vision of achieving excellence in regulation.
Hon Sarah Hoffman expressed her gratitiude for the support the Alberta Paramedic Association offers it's members. She wanted to extend a great appreciation for the service Alberta's paramedics provide and the passion you all have for the highest standard of patient care. This was a very positive first meeting and we are pleased with the relationships we are establishing with stakeholders on behalf of our members.
Do you have something to add to our messages to the Health Minister?
Email us at info@albertaparamedics.ca