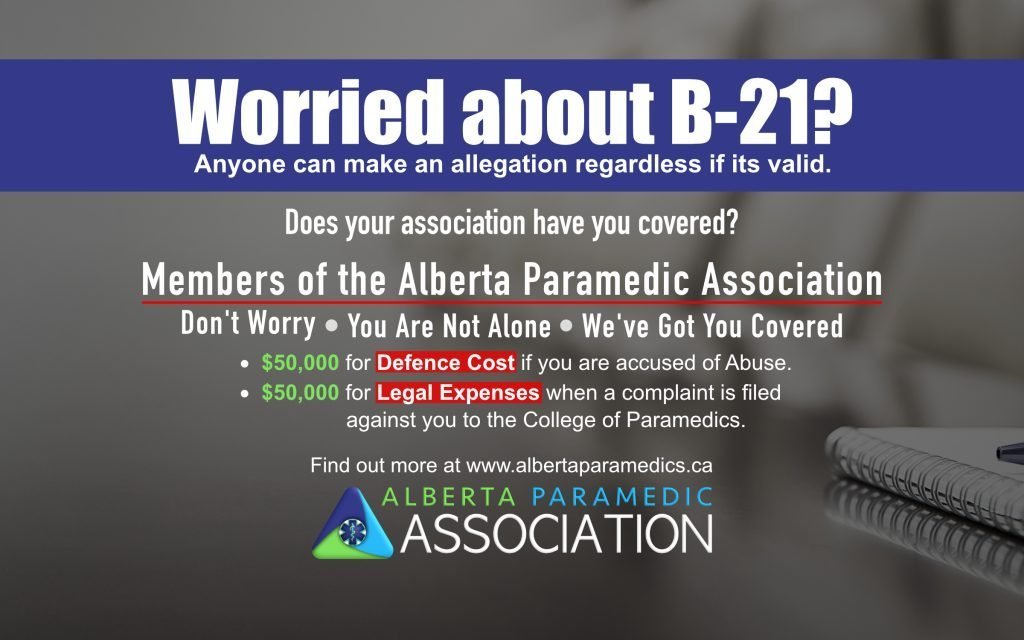 Bill 21: An Act to Protect Patients was passed on November 8 2018 to protect patients from sexual abuse and sexual misconduct by regulated health professionals in Alberta. Alberta Paramedics are regulated health professionals under the Health Professions Act.
The Alberta Paramedic Association commends the Government of Alberta for introducing legislation aimed at strengthen patient protection by introducing mandatory penalties for sexual abuse and misconduct. The Association will continue to research and develop strategies for paramedics to maintain the highest level of protection for patients from sexual abuse and sexual misconduct.
The Association is pleased to see our regulator, the Alberta College of Paramedics (College), has started its consultation process. The Association encourages all members to participate in their consultation by providing comments and feedback in their survey link: https://www.surveymonkey.com/r/BM5NK87.
While we wait for the new Standard of Practice to be developed by the College, the Association wants you to become better informed on Bill 21. We encourage all paramedics to access this link https://www.alberta.ca/protecting-patients-against-sexual-abuse.aspx to critically analyze the new legislation.
Further, the Association's role is not only to provide awareness and voice to the members on breaking issues, but in this case, to ensure personal safety if a legal dispute arises. It is possible that there may be circumstances where paramedics may see allegations from the public that fall into the definitions within Bill 21 that may be vexatious or unfounded as part of the regular day to day work in providing care. Therefore the Association has ensured that when necessary, our members are provided with financial resources to legally defend themselves from wrongful accusations of abuse.
The Association stresses the importance of carrying proper professional liability insurance. We want our members to know that the Association has confirmed with our insurance provider (ProLink) that members are covered for allegations involving sexual abuse and misconduct.
Bill 21 Highlights:
Any record of discipline or criminal conviction or conditions placed on a paramedics practice permit related to sexual abuse or misconduct must be published and for an indefinite period.
A Hearing Tribunal that finds a regulated member (paramedic) guilty of sexual abuse of a patient must cancel the member's practice permit and registration or suspend it when a paramedic is found guilty of sexual misconduct.
A Patient Relations Program is to be created by each regulator, including a fund to provide treatment or counselling to patients affected by sexual abuse or misconduct by regulated health professionals.
To get the superior protection and legal resources association members have, become a member today by clicking HERE