---

PROLINK Group Benefits
PROLINK is the endorsed insurance broker for APA. With over 40 years of experience and access to a wide network of 30 insurers, we have the expertise to provide comprehensive insurance and risk management solutions, custom-tailored for the unique needs of Alberta's Paramedics. Plus, as a full-service brokerage, we offer protection for every facet of your personal and professional life, including:
Professional Liability Insurance that is included with the cost of your APA membership and meets all regulatory requirements set out by the HPA and the Alberta Paramedics College;
Business Insurance for any other businesses you may operate outside of the scope of your paramedic activities, including Commercial General Liability Insurance, Property Insurance, Data Security & Privacy Breach Insurance, and more;
Home & Auto Insurance, with savings of up to 15% exclusively for APA members;
Life & Health Insurance, including options for Health & Dental, Disability, Life, and Critical Illness Insurance;
And more!
Click here to learn more!
---
When you click this link, you may need to log into your Alberta Paramedic Account to see your policy number.
---
Top 5 insurance questions answered
How do I renew my insurance/membership?

Your insurance/membership autorenews! Just make sure your payment method is correct on your account page. Read below fore more details on this.

Where do I find my 2023 insurance policy number and expiry date for my College of Paramedics profile?

Simply click the big green button above!

What if I already have liability insurance for the year? Can I purchase membership without the insurance option?

The PROLINK insurance is included with membership at no extra charge! Just like the online education we offer, you may choose not to access it, but its there if you want it. Make sure you peek at the graphic below though, we suspect you may cancel your other insurance and take a refund when you see the premium coverage through PROLINK

How do I contact PROLINK about a specific policy question?
How long after I purchase membership until my insurance becomes active?

Immediately! After purchasing membership, click that green button on this page to access your policy info.
2023 Professional Liability Insurance
We thank you for being a member of the Alberta Paramedics Association.  Your support gives us as practitioners a louder voice to help drive our future!
We know you are here to gain some insight into your insurance, so here are some points that will help you!
If you are a current and active member of the Alberta Paramedic Association, you can access to your insurance policy number by clicking the green button above. That is the number used to update your profile with the Alberta College of Paramedics. However, please note:
Do not unsubscribe to our e-mails otherwise you will not receive your insurance documents.
If you cancel your Alberta Paramedic Association membership at any time, your insurance is also cancelled.

Your Insurance is tied directly to your membership with the Alberta Paramedic Association
Payment Information
Please make sure that your credit card information is up-to-date on your profile.
Your Alberta Paramedics Association Membership will renew automatically December 31 or Jan 1  when your payment method and information is accurate and up-to-date.
You will be emailed a notice of payment or a notification if there was an error, so watch your inbox on Jan 1st!!
Please check your junk box in case it ended up there.
Failure to update us with your personal information, may cancel your insurance!
---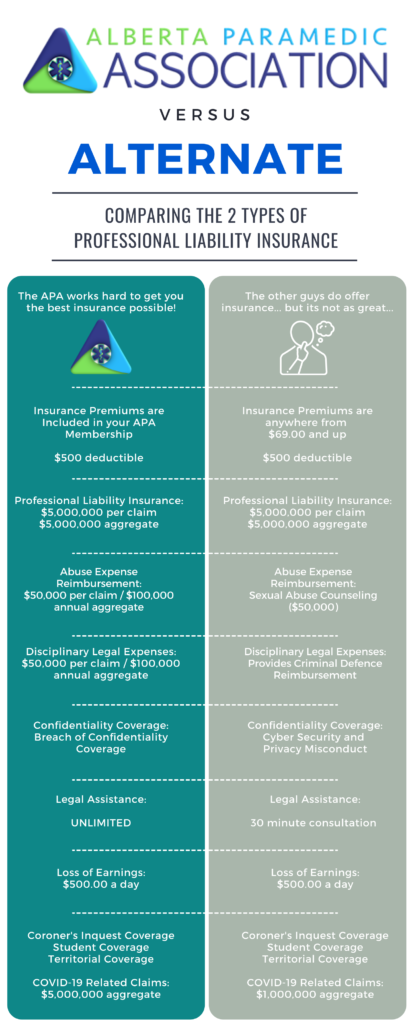 Membership with the Alberta Paramedic Association includes professional liability insurance coverage managed by PROLINK. For more information, check them out below!
---