---
When you click this link, you will need to log into your Alberta Paramedic Account to see your policy number.
---
Important Notice:
2021 Professional Liability Insurance
We thank you for being a member of the Alberta Paramedics Association.  Your support gives us as practitioners a louder voice to help drive our future!
We know you are here to gain some insight into your insurance, so here are some points that will help you!
If you are a current and active member of the Alberta Paramedic Association, you will have access to your insurance policy number in mid-November. That is the number used to update your profile with the Alberta College of Paramedics. However, please note:
Upcoming Insurance Documents
Do not unsubscribe to our e-mails otherwise you will not receive your 2021 insurance documents.
If you cancel your Alberta Paramedic Association membership at any time, your insurance is also cancelled.

Your Insurance is tied directly to your membership with the Alberta Paramedic Association
Payment Updates
Please make sure that your credit card information is up-to-date on your profile.
Your Alberta Paramedics Association Membership will renew automatically December 31, 2020 or Jan 1st 2021 (given that your payment method is accurate)
You will be emailed a notice of payment going through or notifying you if there is trouble. So watch your inbox on Jan 1st!!
Please check your junk box in case it ended up there.
What's next?
In January 2021 you will contacted  via email, it is VERY important that you open the e-mail and follow the directions to update any insurance information

Failure to update us with your personal information, may cancel your insurance!
---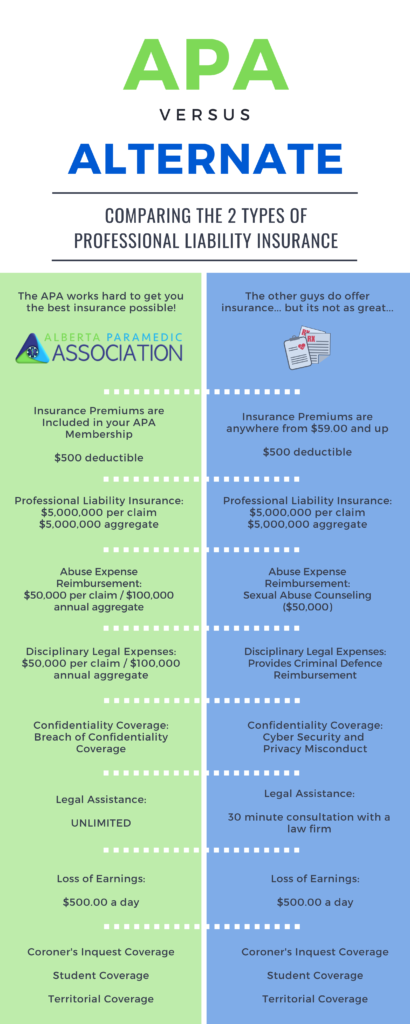 Membership with the Alberta Paramedic Association includes professional liability insurance coverage managed by PROLINK. For more information, check them out below!
---