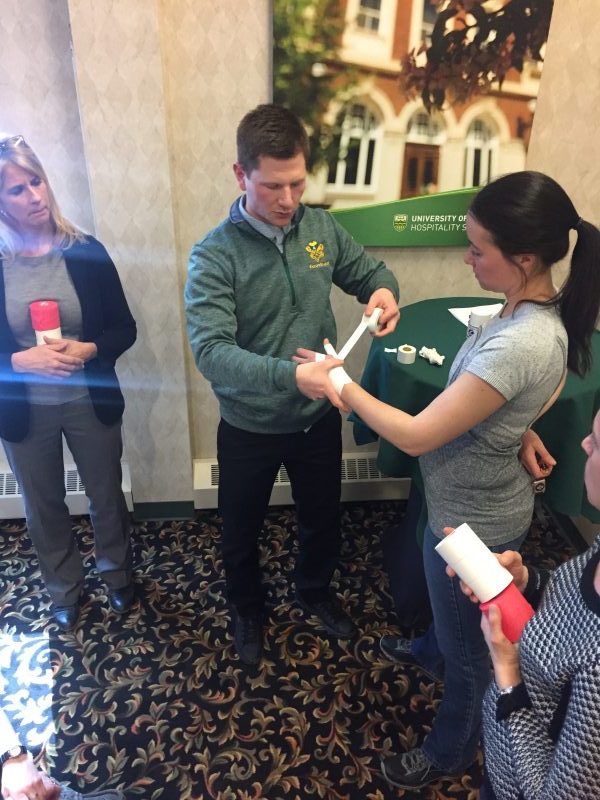 On April 6th, the Alberta Paramedic Association's first educational workshop was held at the Lister Center in Edmonton, where paramedics came together to learn from Alberta's top sport medicine physicians and athletic therapists. Attendees learned the latest joint taping techniques and advanced assessment of the injured joint in a mixed lab/lecture format.
As an added bonus, Edmonton Oilers team physician and UofA professor & researcher, Dr. Naidu joined the workshop in the afternoon to share his expertise in concussion assessment and current recommendations for return to activity.
ECG guru and paramedic Jameson McIntosh shared his advanced knowledge in ECG and cardiac changes in the athlete. This 1hr presentation was subsequently the highest rated of the day and the most requested presentation to be expanded upon in future workshops. Please give Jameson a pat on the back when you run into him in the halls of Calgary.
This was only the first workshop in what will become a regular association function. We cannot thank those involved enough for their hard work and dedication to the success of this day. A big thank you to the Glen Sather Sports Medicine Clinic and Varsity Health at the UofA.